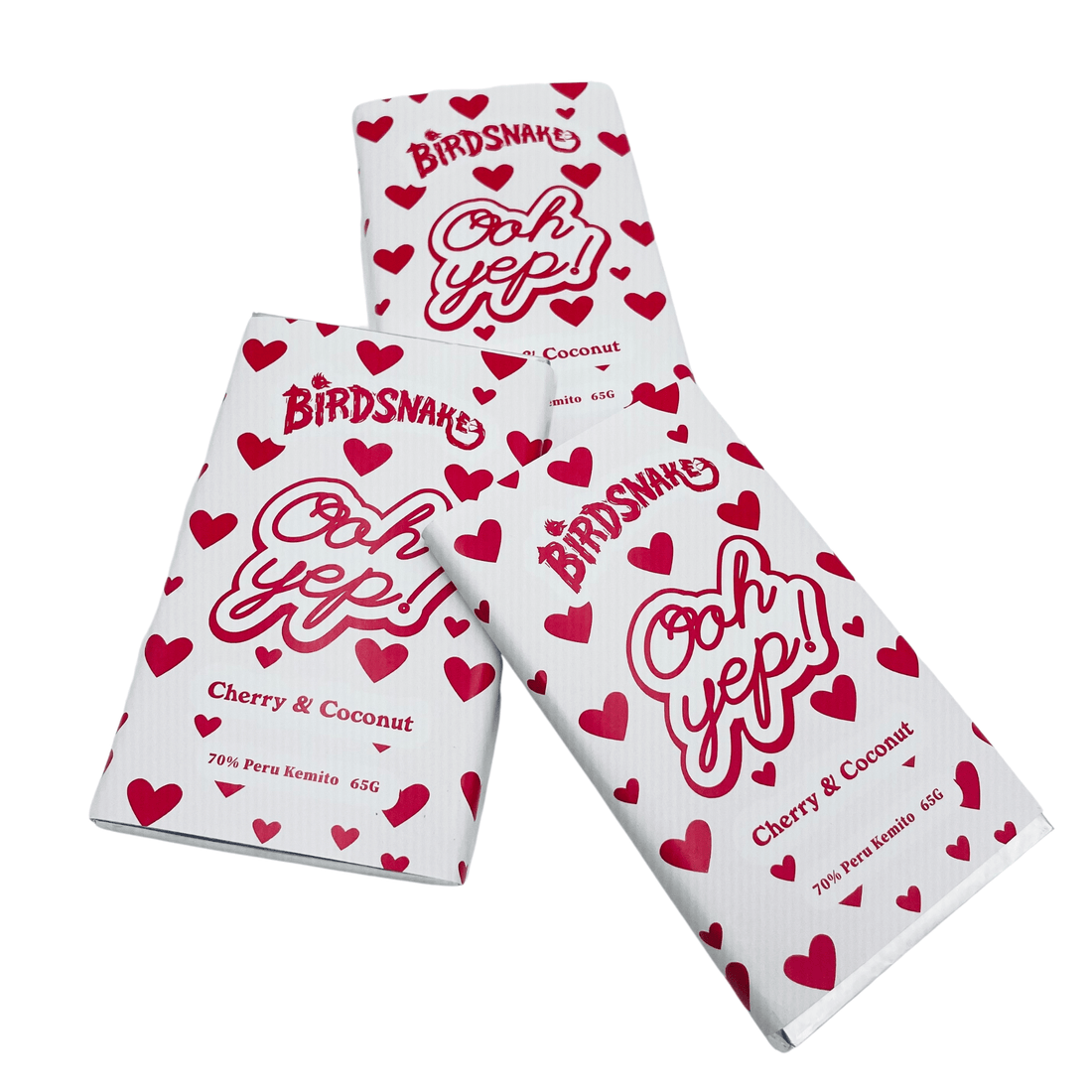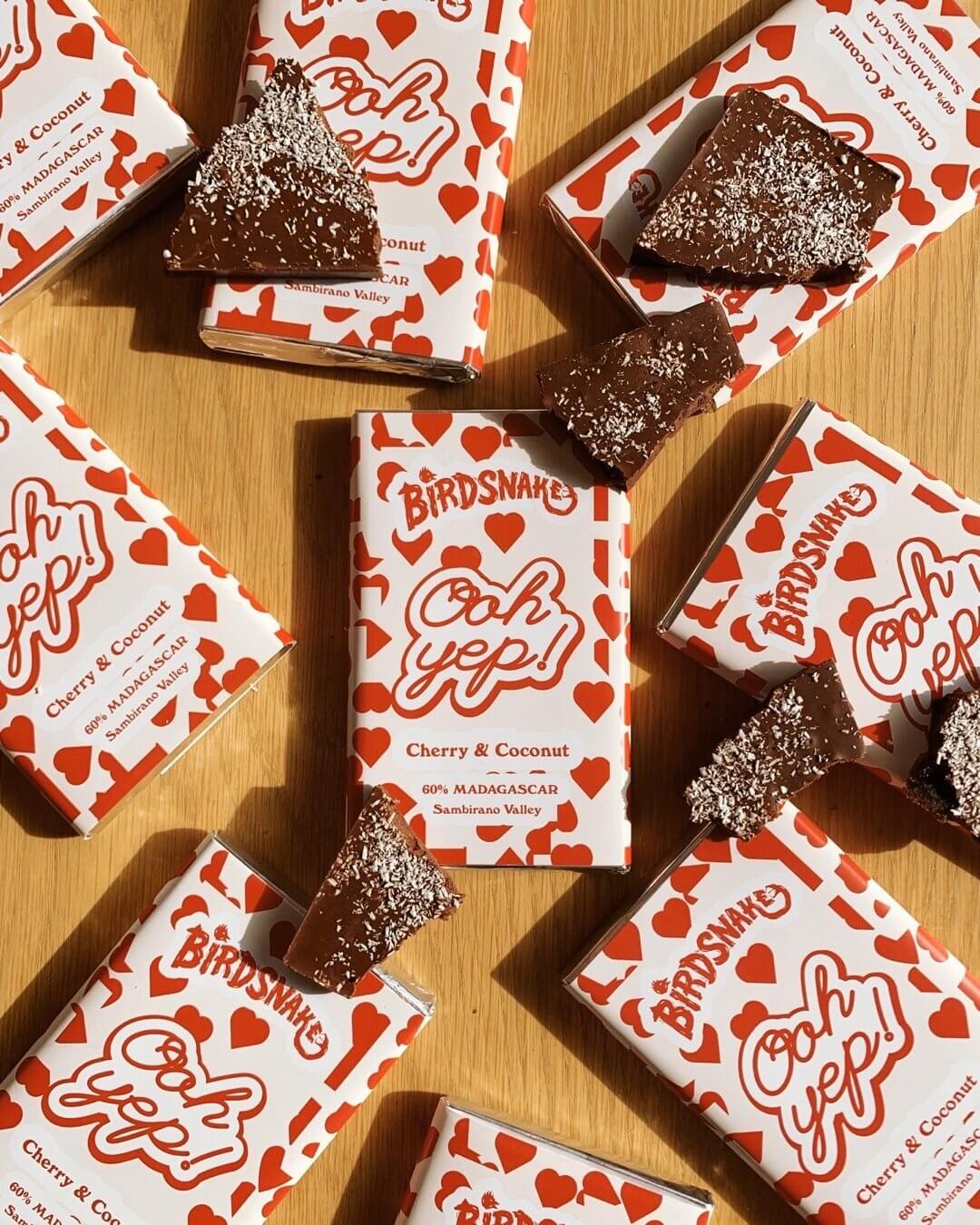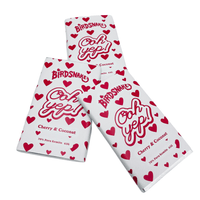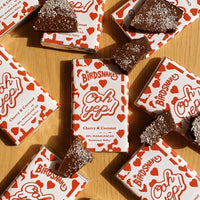 Birdsnake | Dark Chocolate 60% - Cherry & Coconut
60% Dark Chocolate loaded with cherry and coconut - limited edition bar
Made with Birdsnake's 60% Madagascar single origin chocolate - then loaded with glacé cherries and desiccated coconut speckled throughout. A stunning combination!
Always vegan - Birdsnake Chocolate pride themselves on tasty, ethical, vegan chocolate.
And if you're smart, you'll take more than one - this is a limited release, and once they're gone, they're gone.
Bar Size: 65g
ABOUT BIRDSNAKE CHOCOLATE
Birdsnake is a Melbourne based, vegan chocolate maker who is not only passionate about making quality chocolate, but doing so ethically.

As a bean to bar producer they source their beans directly from farmers which ensures quality and transparency in price paid and conditions (in an industry that isn't always so sweet).

Their distinctive name and packaging tell a story that goes back thousands of years; to the first consumers of cocoa - the Mesoamericans (Mayan and Aztecs) and their belief that cacao was originally given to humans by a giant feathered serpent, which appeals to us

Birdsnake prides itself on being vegan, non-GMO and no emulsifiers. And for what it's worth, the first plant based milk chocolate we've rated as good!
TIMING: We don't believe anyone should wait too long for chocolate and aim to have your chocolate packaged and shipped within 1-2 business days. The sooner the better as far as we're concerned :)
SHIPPING TIMES: Standard shipping typically takes between 2-7 days. Exact time will depend on the courier, and whilst we can't guarantee any exact time as it's out of our hands, experience tells us it's more likely to be 2-3 days in most cases.
THE SNAILIEST SNAIL MAIL: As a heads up, sending to a PO Box, parcel locker or similar, will often be slower as we can't use courier services and have to rely on Australia Post, who can be pretty slow at times.
EXPRESS POST: If you need your chocolate urgently, because sometimes that's a thing in life, please select Express Post at checkout, or get in touch to check how we can help.
HOT WEATHER POLICY: Please note, if the temperature is soaring we may withhold sending your chocolate for a day or two to ensure it doesn't arrive a melted mess. We'll keep you posted if that's a case, but please refer to our hot weather policy, or get in touch with any questions.
FREE SHIPPING! We're like you and we love free shipping - although full transparency, we deal in good chocolate as a passion more than profit (yep, the margins are pretty low) and as much as we'd love to offer free shipping on every order it's just not possible. But we love people who love good chocolate, so keep an eye out onsite for our free shipping rates, and gift boxes that include free shipping. Happy days!

STILL NEED INFO? Check out our shipping policy, or get in touch hello@fiammachocolate.au.