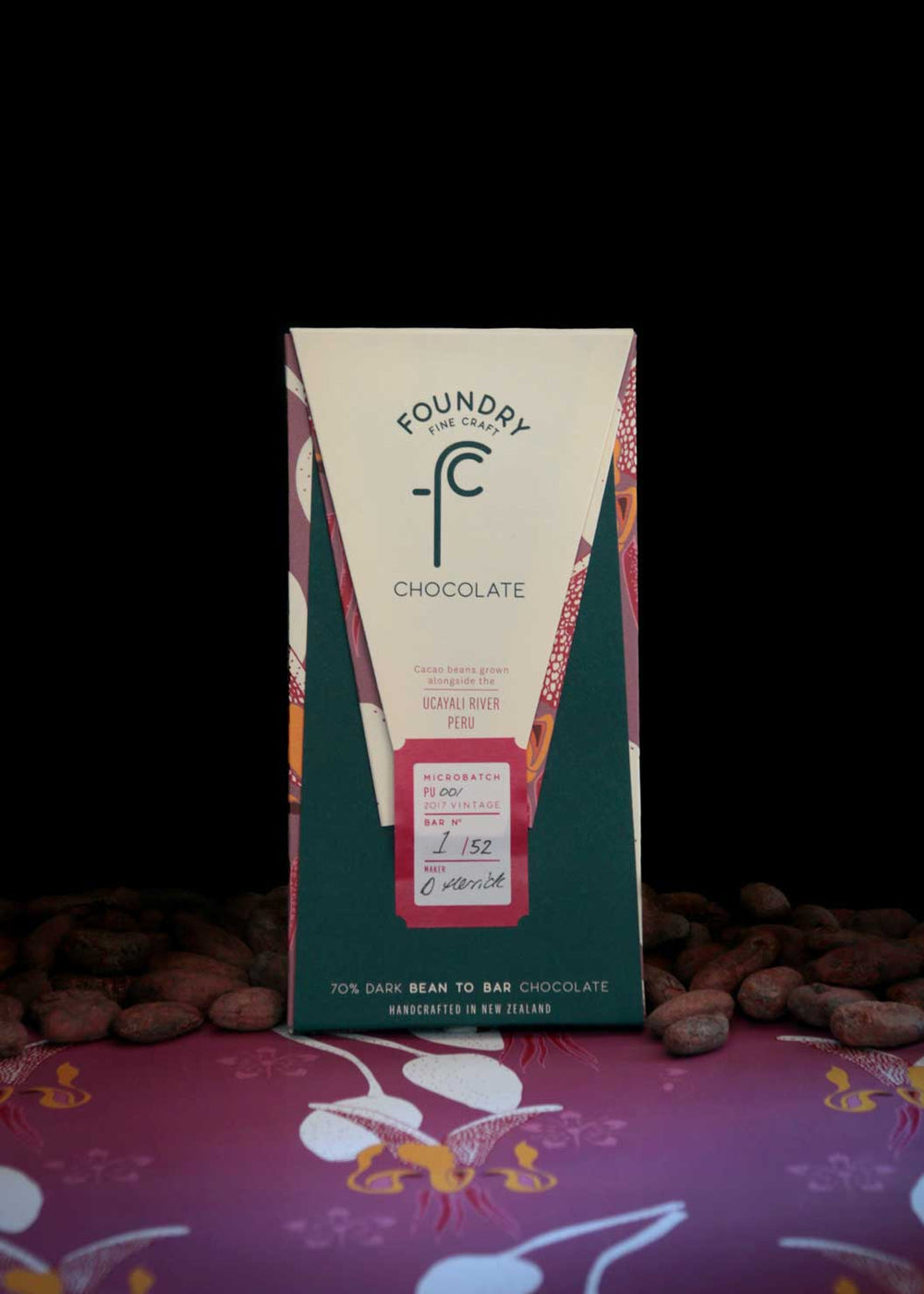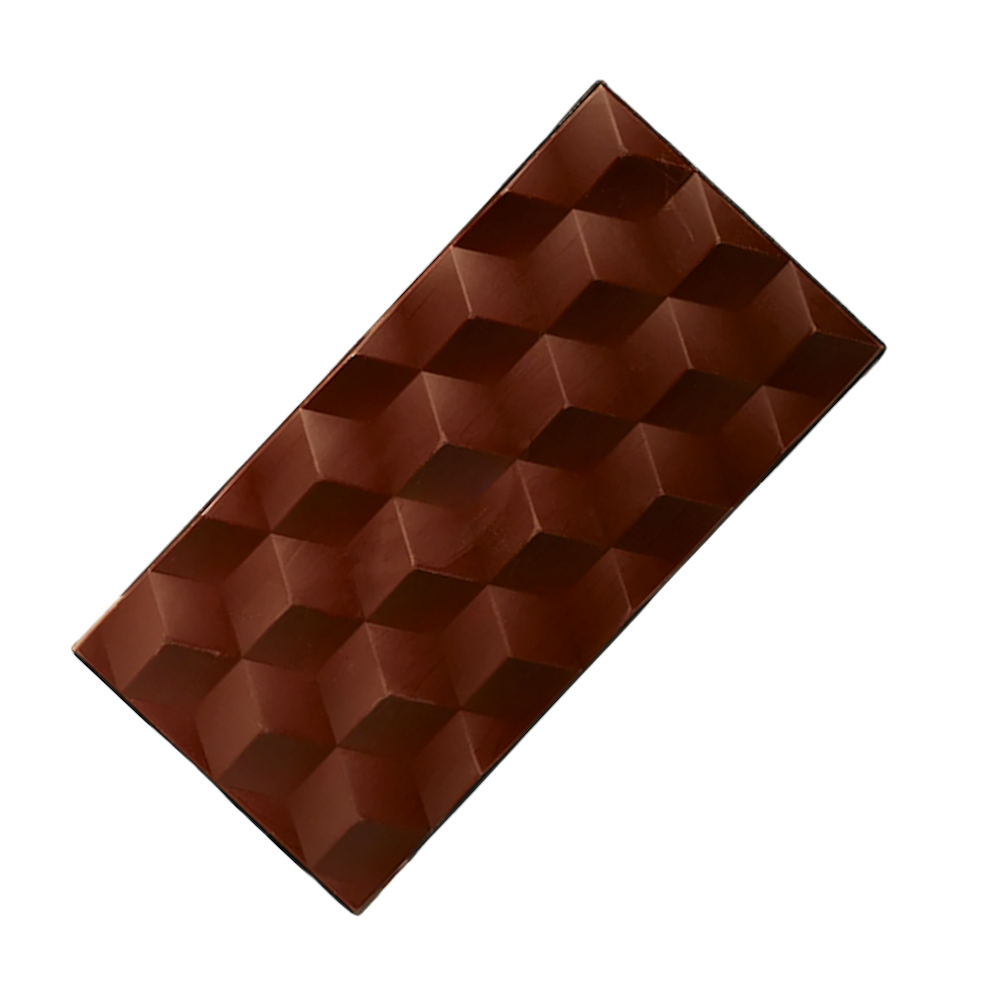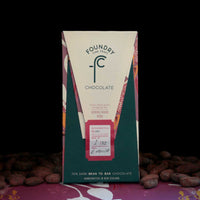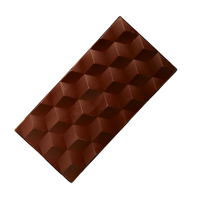 Foundry Chocolate | 70% Dark Chocolate - Peru
70% dark chocolate with sprightly chocolate and floral notes, cinnamon and a touch of cardamom.
This is a bold and sprightly chocolate alive with complex bouquets of spring blossoms.
Dotted along the banks of Peru's Ucayali River, you'll find family-owned farms growing some of the world's best cacao. From this simple ingredient Foundry Chocolate creates true artisan chocolate with distinct flavour profiles.

70g Bar
- - - -
About Ucayali Ri ver Cocoa Plantation
Ucayali River Cacao is a central fermentary that works with cacao farmers along the Ucayali River – one of the headwaters of the Amazon River - outside of the Peruvian city of Pucallpa.The region has historically been afflicted with unrest from narco-trafficking and the presence of the Shining Path militant group.Ucayali River Cacao has partnered with USAID and Alianza Peru to give local farmers access to an alternate market to cocaine.Working with around 400 smallholder farmers with one to three hectares of land each, Ucayali River Cacao buys wet cacao at a premium price, then centrally ferments and dries it.
Photos Foundry Chocolate.
ABOUT FOUNDRY CHOCOLATE

New Zealand brand Foundry are scooping up awards for their hand crafted, micro-batch chocolate.

Chocolate maker, David, is obsessive about making fine chocolate from just two ingredients - cocoa bean and sugar, which means his chocolate starts at 70% cocoa solids.

In addition, the beans he carefully sources are of exceptional quality which mans each chocolate has a distinct flavour 'personality' - believe us when we say not all 70% chocolates taste the same!

Foundry Chocolate celebrate vintage chocolate i.e. 2019 and each bar is hand numbered and signed - so make sure you check out your bar to see what you have.
TIMING: We don't believe anyone should wait too long for chocolate and aim to have your chocolate packaged and shipped within 1-2 business days. The sooner the better as far as we're concerned :)
SHIPPING TIMES: Standard shipping typically takes between 2-7 days. Exact time will depend on the courier, and whilst we can't guarantee any exact time as it's out of our hands, experience tells us it's more likely to be 2-3 days in most cases.
THE SNAILIEST SNAIL MAIL: As a heads up, sending to a PO Box, parcel locker or similar, will often be slower as we can't use courier services and have to rely on Australia Post, who can be pretty slow at times.
EXPRESS POST: If you need your chocolate urgently, because sometimes that's a thing in life, please select Express Post at checkout, or get in touch to check how we can help.
HOT WEATHER POLICY: Please note, if the temperature is soaring we may withhold sending your chocolate for a day or two to ensure it doesn't arrive a melted mess. We'll keep you posted if that's a case, but please refer to our hot weather policy, or get in touch with any questions.
FREE SHIPPING! We're like you and we love free shipping - although full transparency, we deal in good chocolate as a passion more than profit (yep, the margins are pretty low) and as much as we'd love to offer free shipping on every order it's just not possible. But we love people who love good chocolate, so keep an eye out onsite for our free shipping rates, and gift boxes that include free shipping. Happy days!

STILL NEED INFO? Check out our shipping policy, or get in touch hello@fiammachocolate.au.