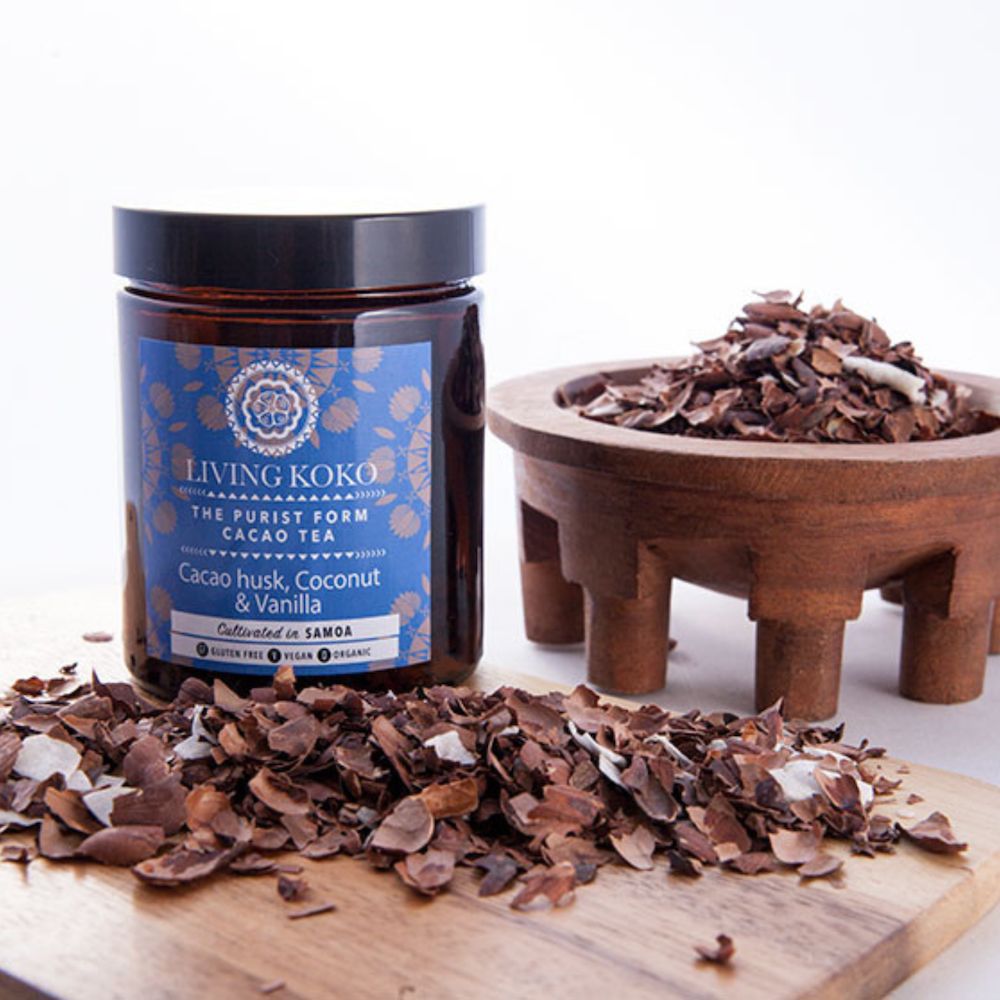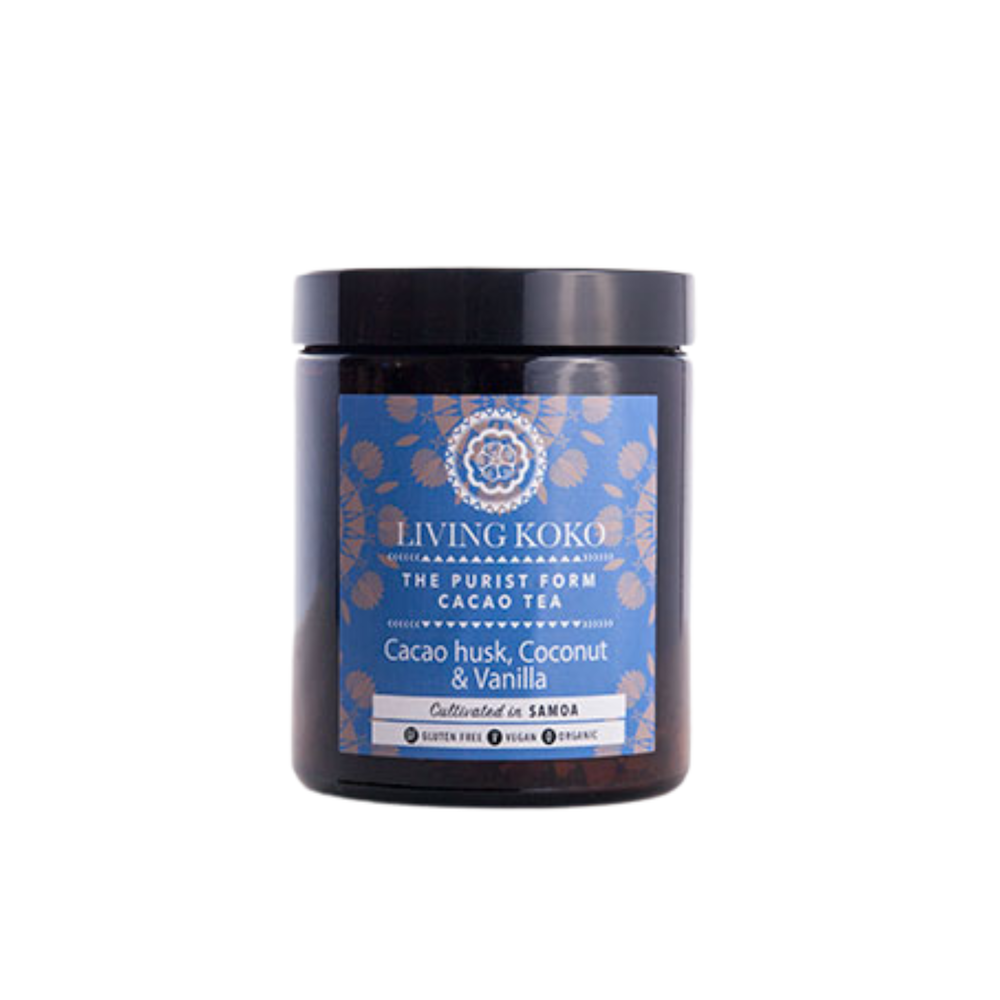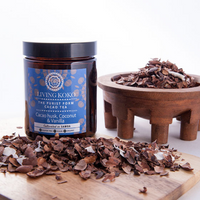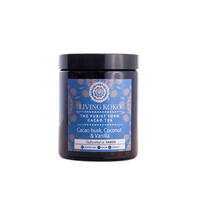 Living Koko | Tea - Cacao Husk, Coconut & Vanilla
An aromatic light vanilla flavoured tea, with earthy tones combined with organic coconut flakes infused with organic vanilla. Light, warming and delicious.
This organic, single origin Cacao, Coconut & Vanilla Tea – is made from the husks of the cacao beans from Samoa, and coconut and vanilla from the pacific tropics. This means not only is the source products of the best quality, but by using the cacao husks, Living Koko is reducing waste and increasing income for farmers.
Needless to say, cacao husks make a fabulous drink, particularly when combined with coconut flakes and organic vanilla. 
Beautifully presented in an amber jar - 60g of tea.

Serving suggestion: 1 heaped tablespoon of cocoa tea into a 2-3 cup tea pot. Drink as is (our preference), or add sweetener and/or milk choice.
- - - - 
Samoan Cacao
From time passed to today is known as one of the best flavoured beans. Introduced to Samoa in 700AD by Pacific Island Voyages then cultivated commercially during the 18th century through the then German Samoan https://www.livingkoko.com/wp-content/uploads/2021/10/12124234.jpgistration, the seedlings imported from Brazil and Madagascar loved the rich Samoan soil and developed their own style. An aromatic light vanilla flavour with earthy tones, a compliment to many recipes.
Living Koko has developed a relationship with Women in Business Development Inc. (WIBDI) of Samoa and Savaii Koko to source organic beans through their network of farmers prioritising Women farmers and domestic village plots.
ABOUT LIVING KOKO

Living Koko create small batch guilt-free indulgence with our bespoke cacao products, made of the richest cacao beans from the Samoan Islands - right here in our home town, Melbourne, Australia.

With a Samoan background, they are grounded in tradition and proud to bring you the purist form of cacao from their villages to yours.

More than just good chocolate - Living Koko want to empower communities here and in the Pacific Islands through fair, ethical trade and bring the best cacao in the world to you. They support ecologically sound and sustainable methods of farming, and want to create opportunities for the Pacific Island domestic plot farming communities. I.e. guilt free chocolate!
TIMING: We don't believe anyone should wait too long for chocolate and aim to have your chocolate packaged and shipped within 1-2 business days. The sooner the better as far as we're concerned :)
SHIPPING TIMES: Standard shipping typically takes between 2-7 days. Exact time will depend on the courier, and whilst we can't guarantee any exact time as it's out of our hands, experience tells us it's more likely to be 2-3 days in most cases.
THE SNAILIEST SNAIL MAIL: As a heads up, sending to a PO Box, parcel locker or similar, will often be slower as we can't use courier services and have to rely on Australia Post, who can be pretty slow at times.
EXPRESS POST: If you need your chocolate urgently, because sometimes that's a thing in life, please select Express Post at checkout, or get in touch to check how we can help.
HOT WEATHER POLICY: Please note, if the temperature is soaring we may withhold sending your chocolate for a day or two to ensure it doesn't arrive a melted mess. We'll keep you posted if that's a case, but please refer to our hot weather policy, or get in touch with any questions.
FREE SHIPPING! We're like you and we love free shipping - although full transparency, we deal in good chocolate as a passion more than profit (yep, the margins are pretty low) and as much as we'd love to offer free shipping on every order it's just not possible. But we love people who love good chocolate, so keep an eye out onsite for our free shipping rates, and gift boxes that include free shipping. Happy days!

STILL NEED INFO? Check out our shipping policy, or get in touch hello@fiammachocolate.au.