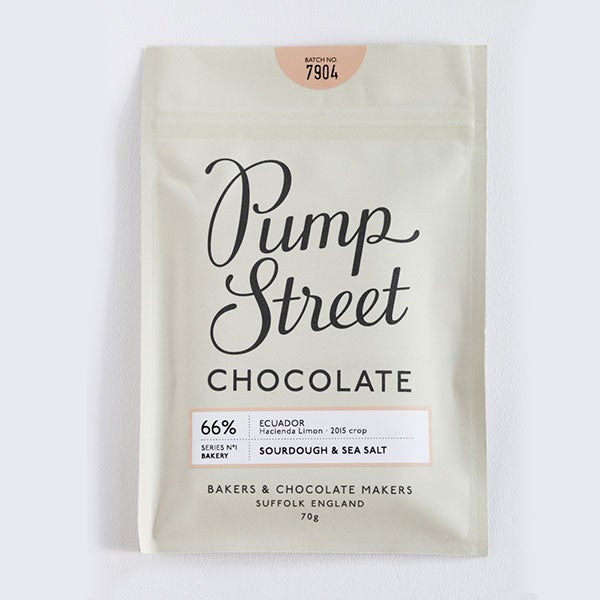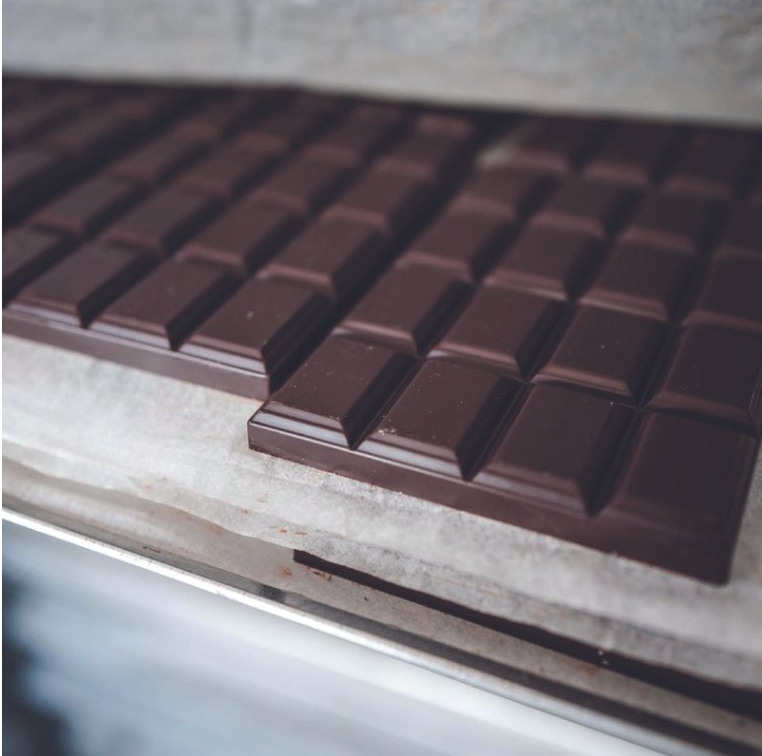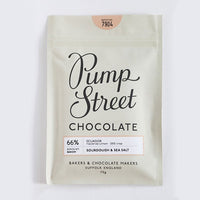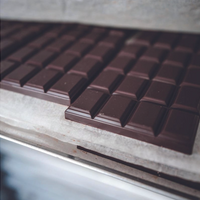 Pump Street | 66% Dark Chocolate - Sourdough & Salt
A 66% dark chocolate - with a unique addition of sourdough bread crunch.
A unique combination of Pump Street's two signature products - fine chocolate and artisan bread.
The addition of sourdough crumbs and a touch of sea salt, add crunch and contrast to what is otherwise a smooth, malty Ecuadorian chocolate. In fact, this bar is considered to be the first example of where sourdough had been added to a chocolate bar!
Bar Size: 70g
Note: we have some limited sample bars and pieces on sale. These have been repackaged and are offered at a special sale price - see options.
- - - -
Bean: Hacienda Limon, Ecuador
Multi award winning including Silver medal at the 2021 Academy of Chocolate awards 
PUMP STREET CHOCOLATE

Located in a 15th Century building in the small village of Orford on the Suffolk Cost, Pump Street is an award-winning bakery; however after mastering the production of naturally leavened artisan bread - they ventured into bean to bar chocolate, and now create exceptional small batch chocolate. 

Outgrowing their original bakery building, their chocolate production moved to an old military vehicle record keeping building - disused for many years but now creating some of the world's best chocolate. 

And don't be fooled by their small village origins - Pump Street direct source their beans from the best single estates around the world, and then tailor their roasting, grading and conching to create exceptional chocolate. I particularly love the marriage of their bakery heritage with chocolate making endeavours in the Sourdough bar.

TIMING: We don't believe anyone should wait too long for chocolate and aim to have your chocolate packaged and shipped within 1-2 business days. The sooner the better as far as we're concerned :)
SHIPPING TIMES: Standard shipping typically takes between 2-7 days. Exact time will depend on the courier, and whilst we can't guarantee any exact time as it's out of our hands, experience tells us it's more likely to be 2-3 days in most cases.
THE SNAILIEST SNAIL MAIL: As a heads up, sending to a PO Box, parcel locker or similar, will often be slower as we can't use courier services and have to rely on Australia Post, who can be pretty slow at times.
EXPRESS POST: If you need your chocolate urgently, because sometimes that's a thing in life, please select Express Post at checkout, or get in touch to check how we can help.
HOT WEATHER POLICY: Please note, if the temperature is soaring we may withhold sending your chocolate for a day or two to ensure it doesn't arrive a melted mess. We'll keep you posted if that's a case, but please refer to our hot weather policy, or get in touch with any questions.
FREE SHIPPING! We're like you and we love free shipping - although full transparency, we deal in good chocolate as a passion more than profit (yep, the margins are pretty low) and as much as we'd love to offer free shipping on every order it's just not possible. But we love people who love good chocolate, so keep an eye out onsite for our free shipping rates, and gift boxes that include free shipping. Happy days!

STILL NEED INFO? Check out our shipping policy, or get in touch hello@fiammachocolate.au.