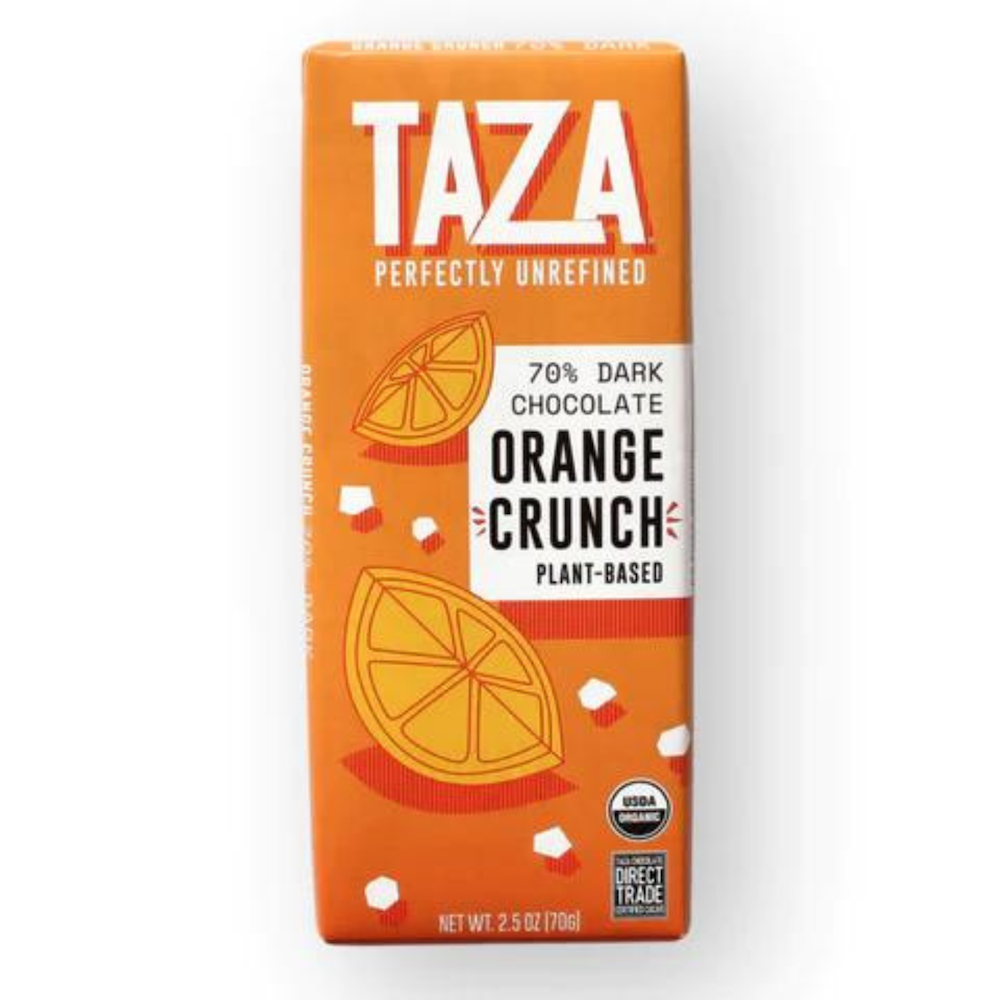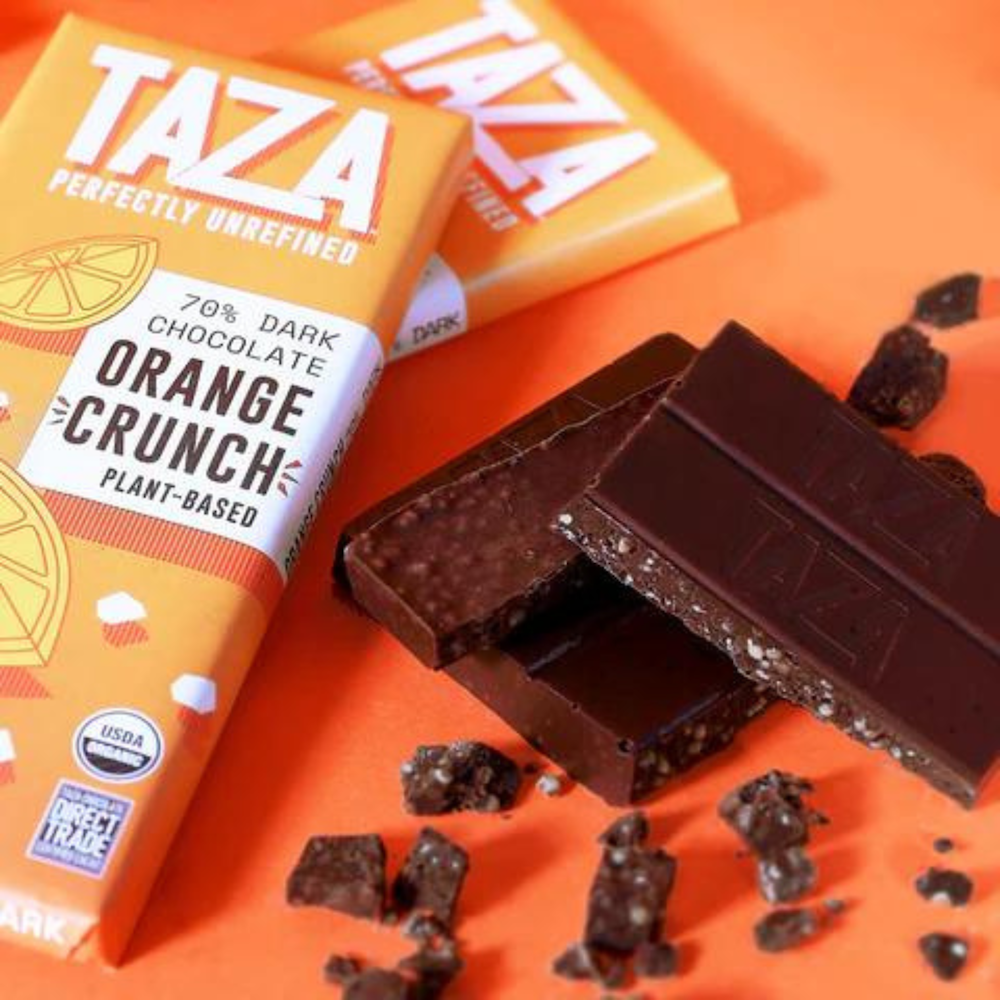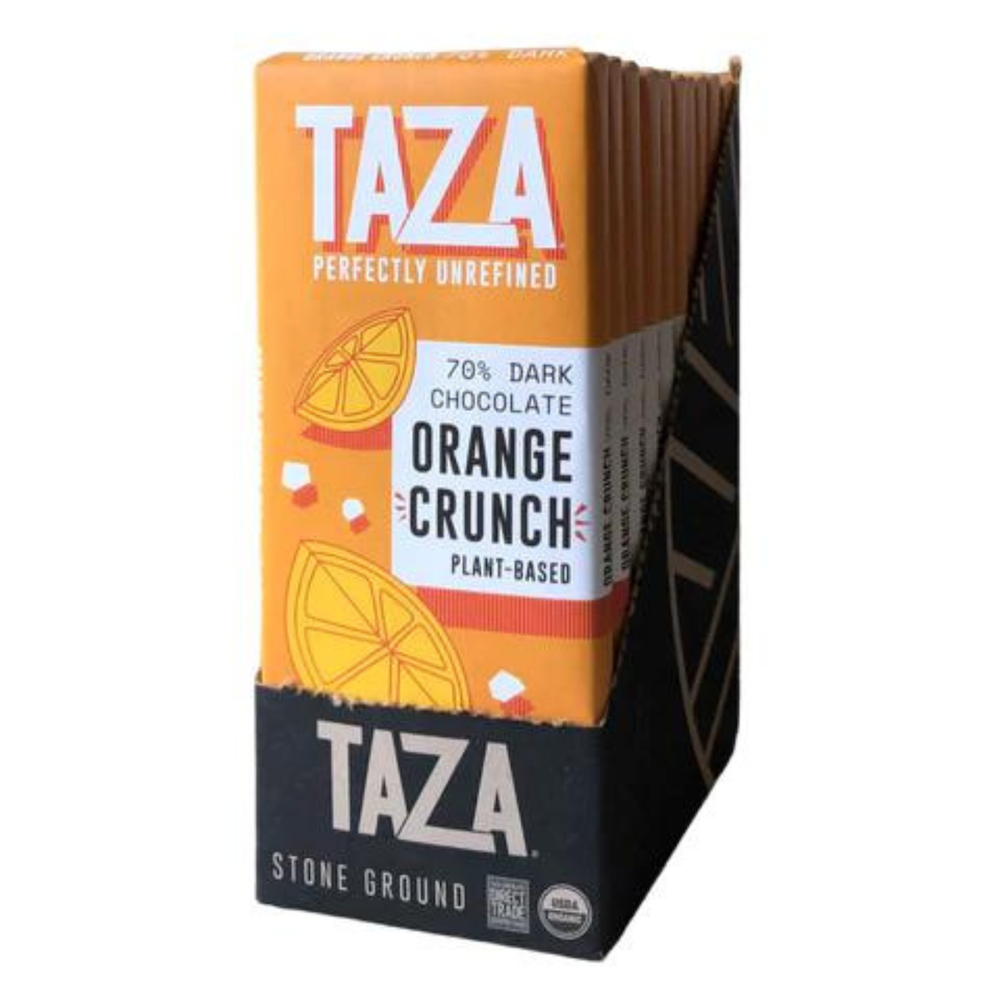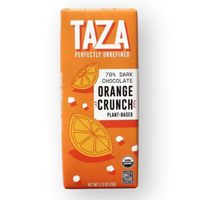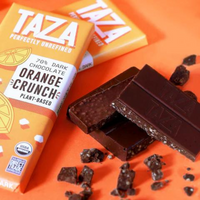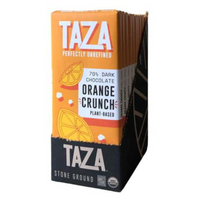 Taza | 70% Dark Chocolate - Orange Crunch
Irresistibly smooth 70% dark chocolate packed with LOTS of crispy puffed quinoa and a burst of sunny orange flavor!
A perfectly unrefined 70% dark stone ground organic chocolate, that delivers an intense burst of orange essence and a puffed quinoa crunch.
This is a minimally processed bar that uses traditional processing methods - resulting in a unique 'grainy' texture that is not only interesting, but delivers flavour in a unique way. Chocolate made the 'Aztec way'.
For other brands that make chocolate with a similar texture, check out Italian brands Bonajuto and Sibadi. 
Image credit: Taza Chocolate
ABOUT TAZA CHOCOLATE

Taza founder Alex Whitmore took his first bite of stone ground chocolate while traveling in Mexico. He was so inspired by the rustic intensity that he decided to create a chocolate factory back home in Somerville, United States.

He learned to hand-carve granite mill stones to make chocolate that is less processed, so their Direct Trade cacao can shine. In 2005, he officially launched Taza with his wife, Kathleen Fulton, who is Taza's Chief Design Officer and designed all of the packaging.



TIMING: We don't believe anyone should wait too long for chocolate and aim to have your chocolate packaged and shipped within 1-2 business days. The sooner the better as far as we're concerned :)
SHIPPING TIMES: Standard shipping typically takes between 2-7 days. Exact time will depend on the courier, and whilst we can't guarantee any exact time as it's out of our hands, experience tells us it's more likely to be 2-3 days in most cases.
THE SNAILIEST SNAIL MAIL: As a heads up, sending to a PO Box, parcel locker or similar, will often be slower as we can't use courier services and have to rely on Australia Post, who can be pretty slow at times.
EXPRESS POST: If you need your chocolate urgently, because sometimes that's a thing in life, please select Express Post at checkout, or get in touch to check how we can help.
HOT WEATHER POLICY: Please note, if the temperature is soaring we may withhold sending your chocolate for a day or two to ensure it doesn't arrive a melted mess. We'll keep you posted if that's a case, but please refer to our hot weather policy, or get in touch with any questions.
FREE SHIPPING! We're like you and we love free shipping - although full transparency, we deal in good chocolate as a passion more than profit (yep, the margins are pretty low) and as much as we'd love to offer free shipping on every order it's just not possible. But we love people who love good chocolate, so keep an eye out onsite for our free shipping rates, and gift boxes that include free shipping. Happy days!

STILL NEED INFO? Check out our shipping policy, or get in touch hello@fiammachocolate.au.