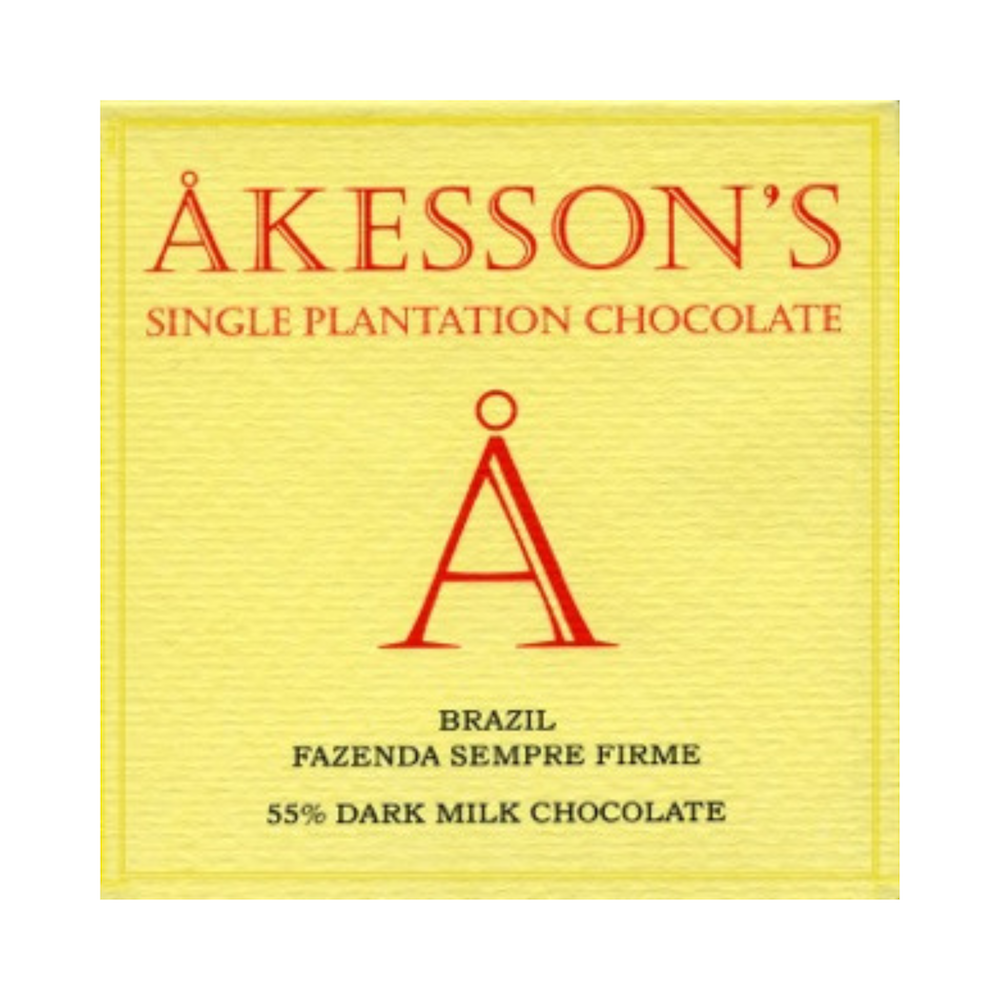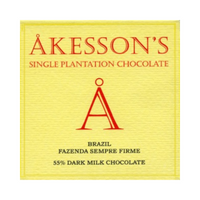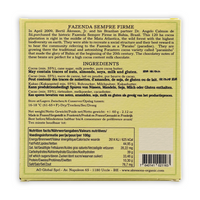 Akesson's Organic | 55% Milk - Brazil
Satisfy your milk chocolate cravings with this excellent 55% single plantation chocolate from Brazil - fruity, woody with a strong chocolate presence. 
Indulge in the rich and complex taste of Åkesson's Brazilian dark milk chocolate. With a 55% cocoa content, this chocolate boasts the perfect balance of fruity and woody notes, accentuated by the creamy sweetness of milk and a strong chocolate flavour.
Experience the ultimate chocolate sensation with every bite - this chocolate does not disappoint. A very elegant milk chocolate. 
55% Forastero Cocoa- Dark Milk
Fazenda Sempre Firme - Brazil
- - - - 
Awards
2017, Great Taste: 3 stars
2017, International Chocolate Awards: SILVER
2016, Great Taste: GOLD 1 star
2016, Academy of Chocolate: BRONZE
- - - -
Plantation: in April 2009, Bertil Akesson and his Brazilian partner Dr Angelo Calmon de Sa, purchased the historic Fazenda Sempre Firme in Bahia, Brazil. This 120ha cocoa plantation is right in the middle of the Mata Atlantica, the wild forest with the highest biodiversity on earth.They were able to recreate a social structure and their best reward is to hear the community referring to the Fazenda as a 'Paraiso' (paradise).
They are growing there the traditional and astonishing Forestero cocoa variety called 'parasinho' that made the glory of Bahia at the beginning of the 20th century.
Bertil Åkesson, a pioneer in the bean-to-bar market, has revolutionized the sale of his single-estate cocoa beans by directly supplying them to more than 300 chocolate makers worldwide. With his own line of award-winning chocolate bars, Bertil's passion for cocoa has earned him much respect in the industry. Growing up in Madagascar in the 1970s, Bertil inherited his father's cocoa and spice plantations on the island, which he has expanded and developed into a thriving business.
TIMING: We don't believe anyone should wait too long for chocolate and aim to have your chocolate packaged and shipped within 1-2 business days. The sooner the better as far as we're concerned :)
SHIPPING TIMES: Standard shipping typically takes between 2-7 days. Exact time will depend on the courier, and whilst we can't guarantee any exact time as it's out of our hands, experience tells us it's more likely to be 2-3 days in most cases.
THE SNAILIEST SNAIL MAIL: As a heads up, sending to a PO Box, parcel locker or similar, will often be slower as we can't use courier services and have to rely on Australia Post, who can be pretty slow at times.
EXPRESS POST: If you need your chocolate urgently, because sometimes that's a thing in life, please select Express Post at checkout, or get in touch to check how we can help.
HOT WEATHER POLICY: Please note, if the temperature is soaring we may withhold sending your chocolate for a day or two to ensure it doesn't arrive a melted mess. We'll keep you posted if that's a case, but please refer to our hot weather policy, or get in touch with any questions.
FREE SHIPPING! We're like you and we love free shipping - although full transparency, we deal in good chocolate as a passion more than profit (yep, the margins are pretty low) and as much as we'd love to offer free shipping on every order it's just not possible. But we love people who love good chocolate, so keep an eye out onsite for our free shipping rates, and gift boxes that include free shipping. Happy days!

STILL NEED INFO? Check out our shipping policy, or get in touch hello@fiammachocolate.au.