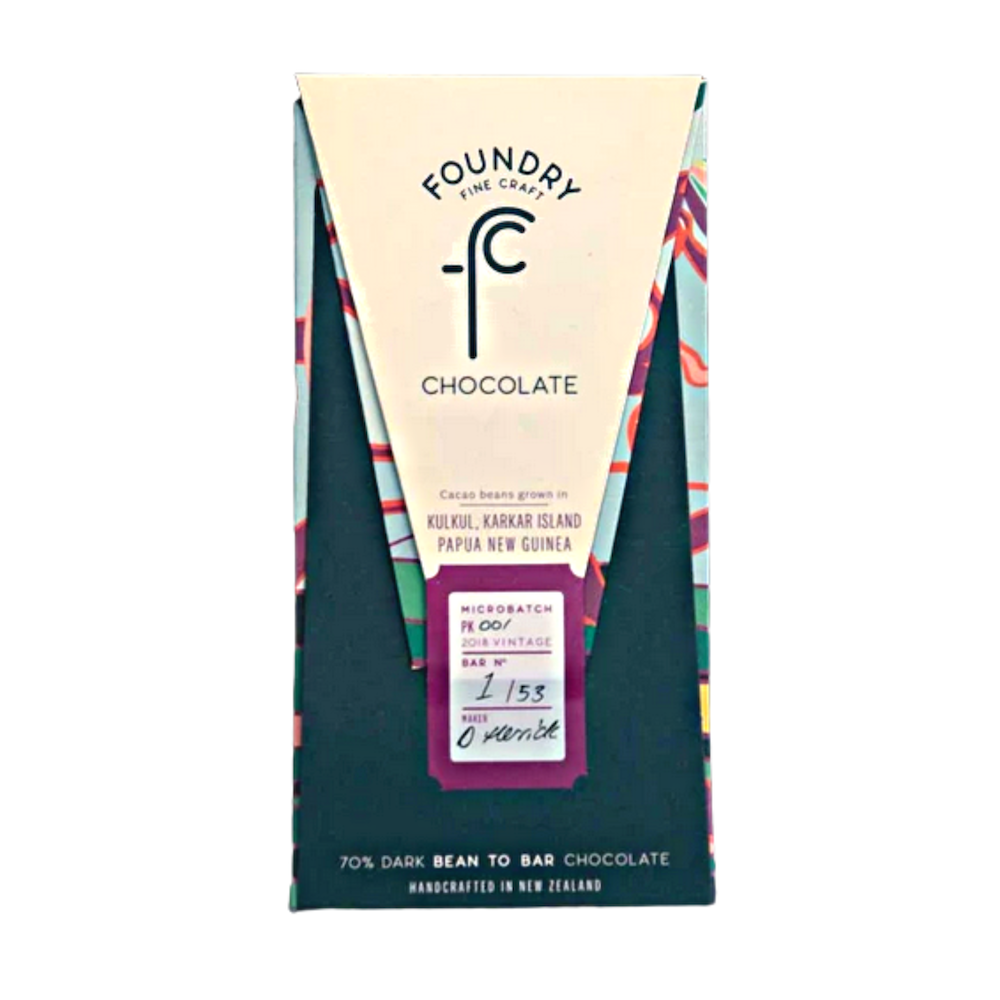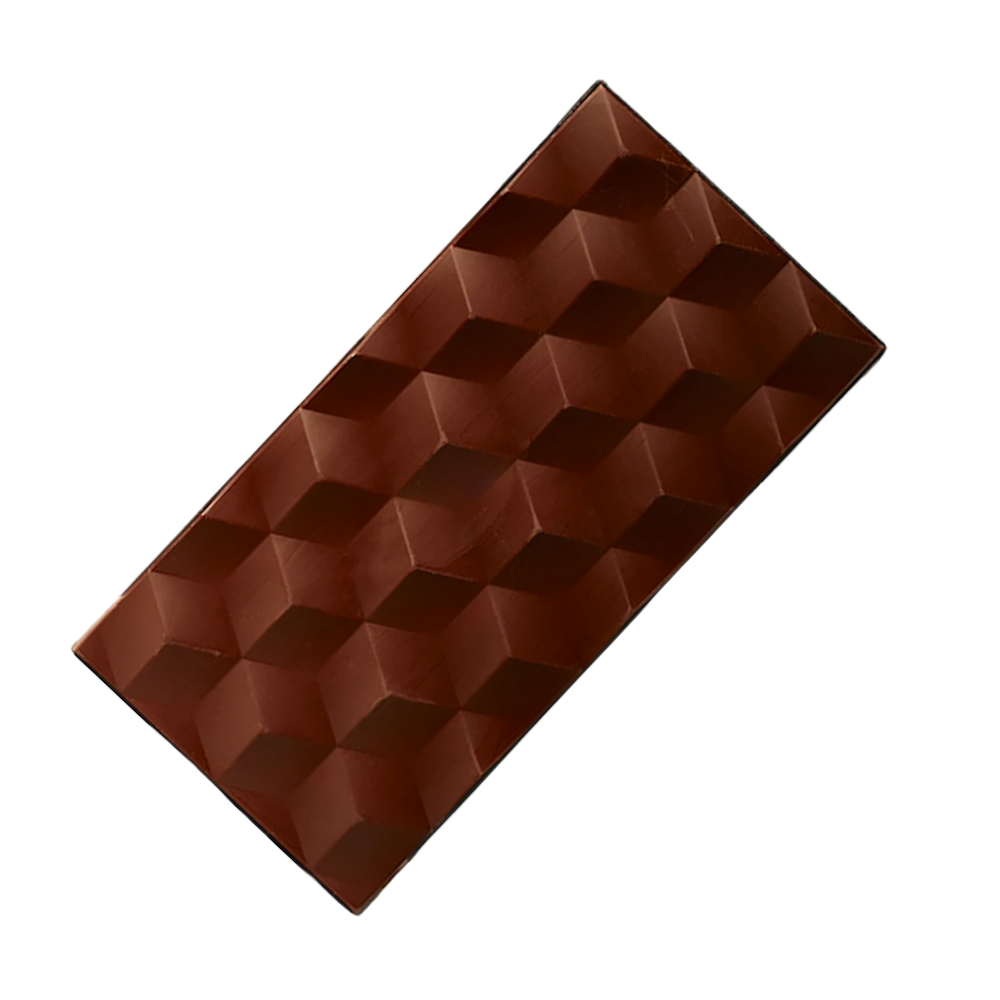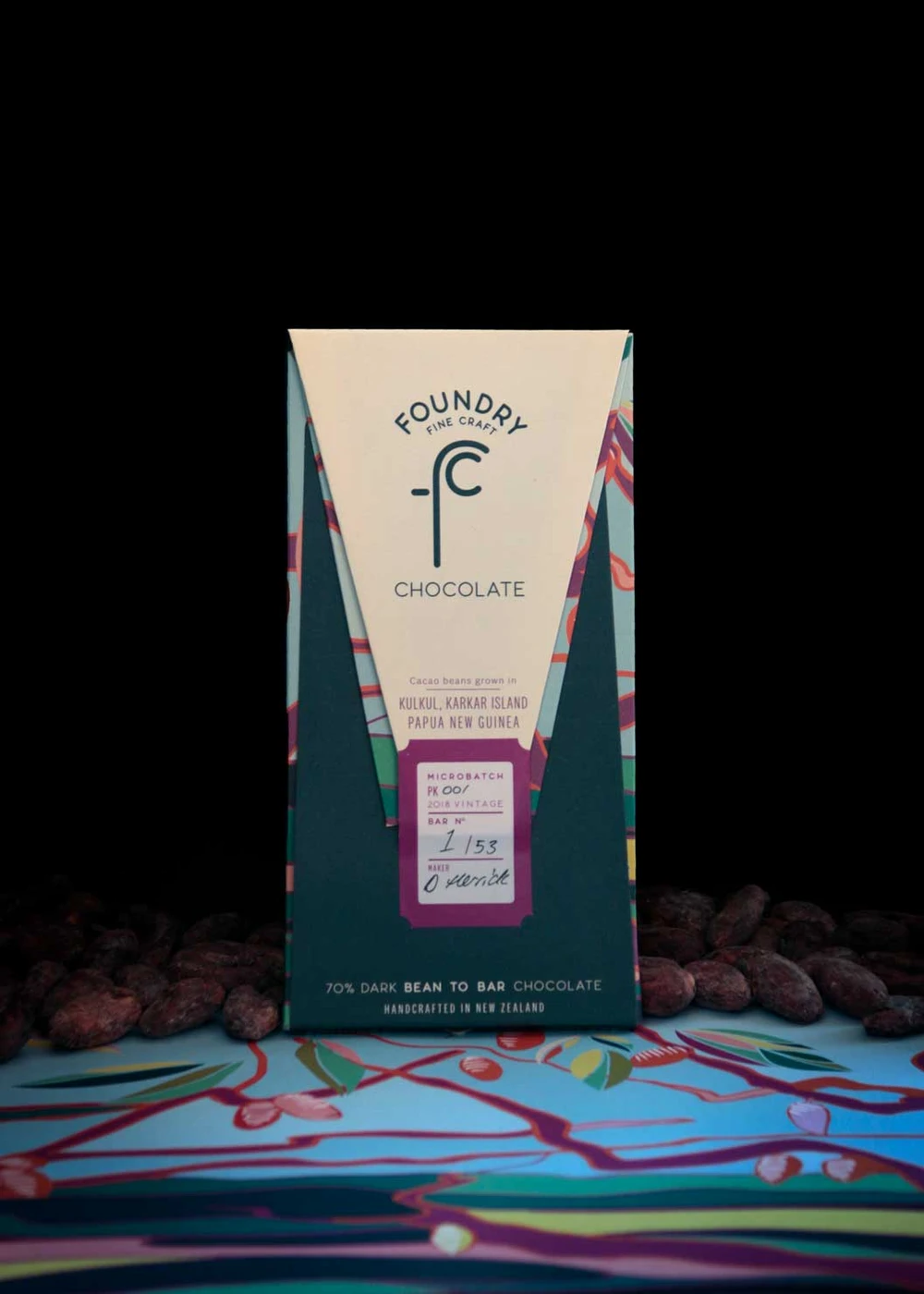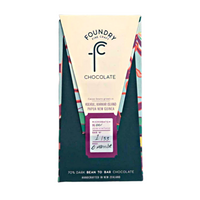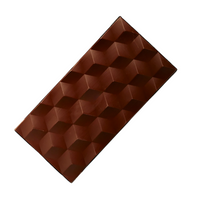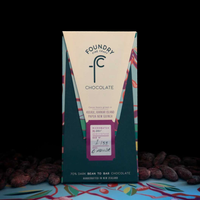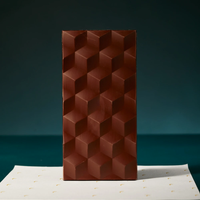 Foundry Chocolate | 70% Dark Chocolate - PNG
70% dark chocolate with intense flavours of lychee, pawpaw and cream.

One of our personal favourites - the cocoa beans produce a silken dark chocolate bristling with tropical vibrancy and quirkiness - with it's hints of lychee and pawpaw, all topped off with a little cream.
Grown on the slopes of an active volcano, these cocoa beans from the Kulkul Plantation, Karkar Island, Papua New Guinea.
70g Bar

- - - -
About Kulkul Plantation
This cacao is grown at Barbara and Paul Goodyear's Kulkul Plantation, on the slopes of the actively volcanic Karkar Island, where it is intercropped with coconut. Karkar Island is located about 30km off the north coast of Papua New Guinea, it is both one of the most fertile locations in the country, and also one of the most active volcanoes. The 1831m volcano last erupted in 2013, and also had major eruptions in the 1970's.
A single road that runs the entire length of the island which is 25km long and 19km wide, and has a population of approximately 70,000.
The Goodyear family have a long history on the island and connection with the community. Barbara and Paul have developed their own unique tasting Trinitario varieties over many years.
Foundry purchase the beans directly from Barbara and Paul, and they get transported by boat to the mainland.
ABOUT FOUNDRY CHOCOLATE

New Zealand brand Foundry are scooping up awards for their hand crafted, micro-batch chocolate.

Chocolate maker, David, is obsessive about making fine chocolate from just two ingredients - cocoa bean and sugar, which means his chocolate starts at 70% cocoa solids.

In addition, the beans he carefully sources are of exceptional quality which mans each chocolate has a distinct flavour 'personality' - believe us when we say not all 70% chocolates taste the same!

Foundry Chocolate celebrate vintage chocolate i.e. 2019 and each bar is hand numbered and signed - so make sure you check out your bar to see what you have.


Bean to bar chocolate, hand made in New Zealand. Ethical chocolate.

TIMING: We don't believe anyone should wait too long for chocolate and aim to have your chocolate packaged and shipped within 1-2 business days. The sooner the better as far as we're concerned :)
SHIPPING TIMES: Standard shipping typically takes between 2-7 days. Exact time will depend on the courier, and whilst we can't guarantee any exact time as it's out of our hands, experience tells us it's more likely to be 2-3 days in most cases.
THE SNAILIEST SNAIL MAIL: As a heads up, sending to a PO Box, parcel locker or similar, will often be slower as we can't use courier services and have to rely on Australia Post, who can be pretty slow at times.
EXPRESS POST: If you need your chocolate urgently, because sometimes that's a thing in life, please select Express Post at checkout, or get in touch to check how we can help.
HOT WEATHER POLICY: Please note, if the temperature is soaring we may withhold sending your chocolate for a day or two to ensure it doesn't arrive a melted mess. We'll keep you posted if that's a case, but please refer to our hot weather policy, or get in touch with any questions.
FREE SHIPPING! We're like you and we love free shipping - although full transparency, we deal in good chocolate as a passion more than profit (yep, the margins are pretty low) and as much as we'd love to offer free shipping on every order it's just not possible. But we love people who love good chocolate, so keep an eye out onsite for our free shipping rates, and gift boxes that include free shipping. Happy days!

STILL NEED INFO? Check out our shipping policy, or get in touch hello@fiammachocolate.au.