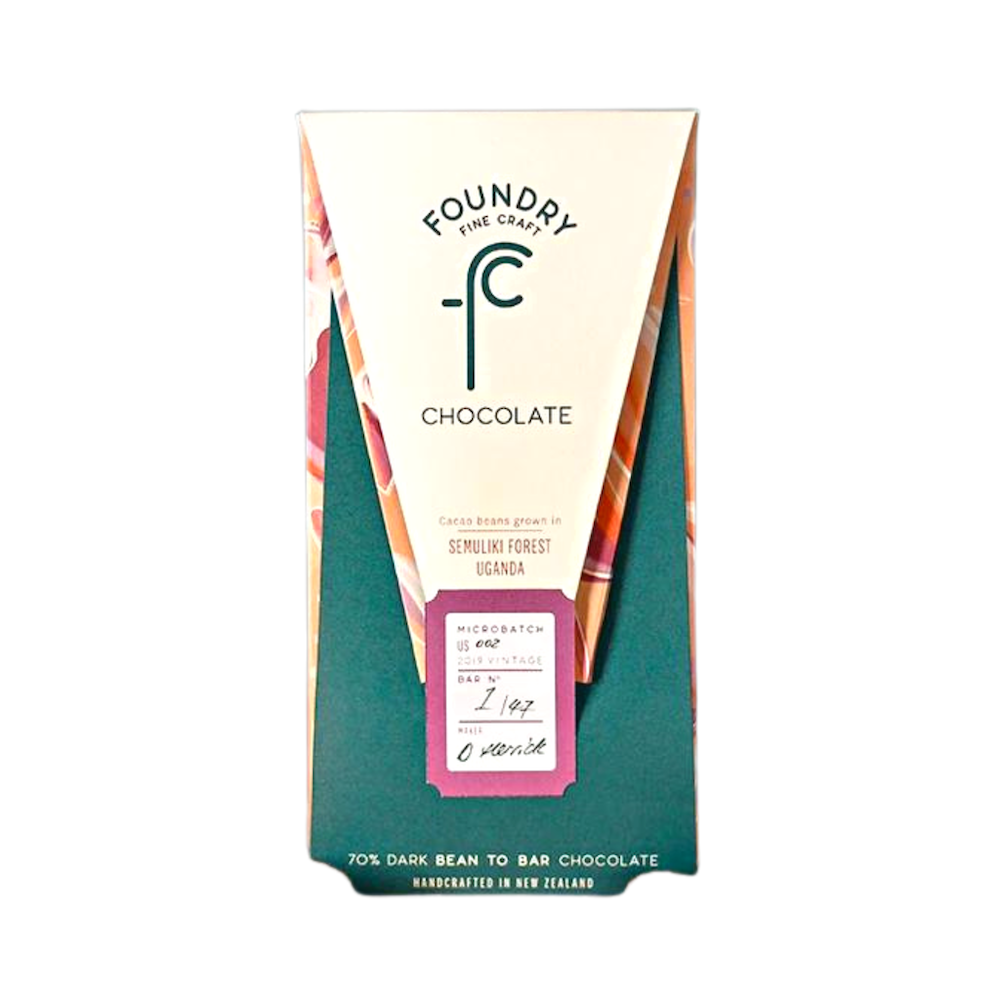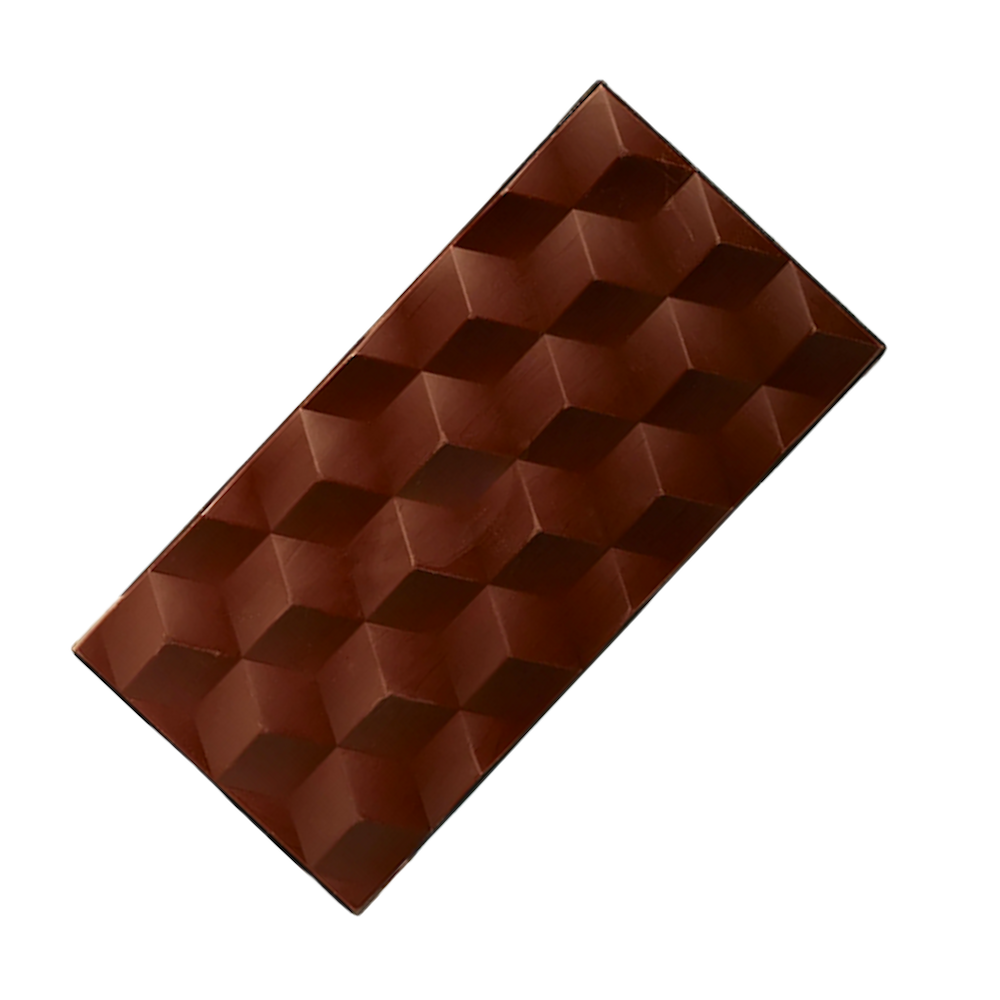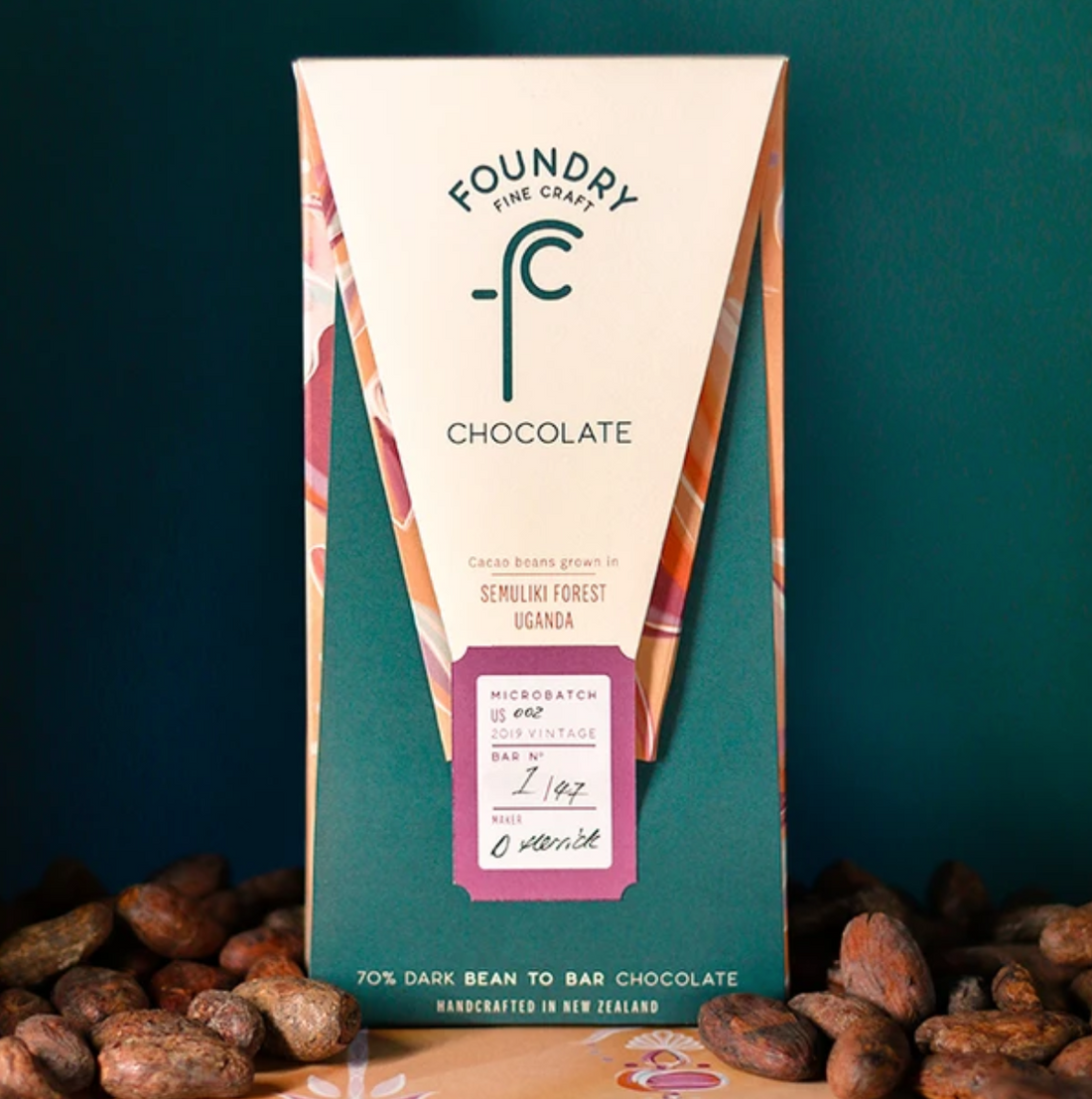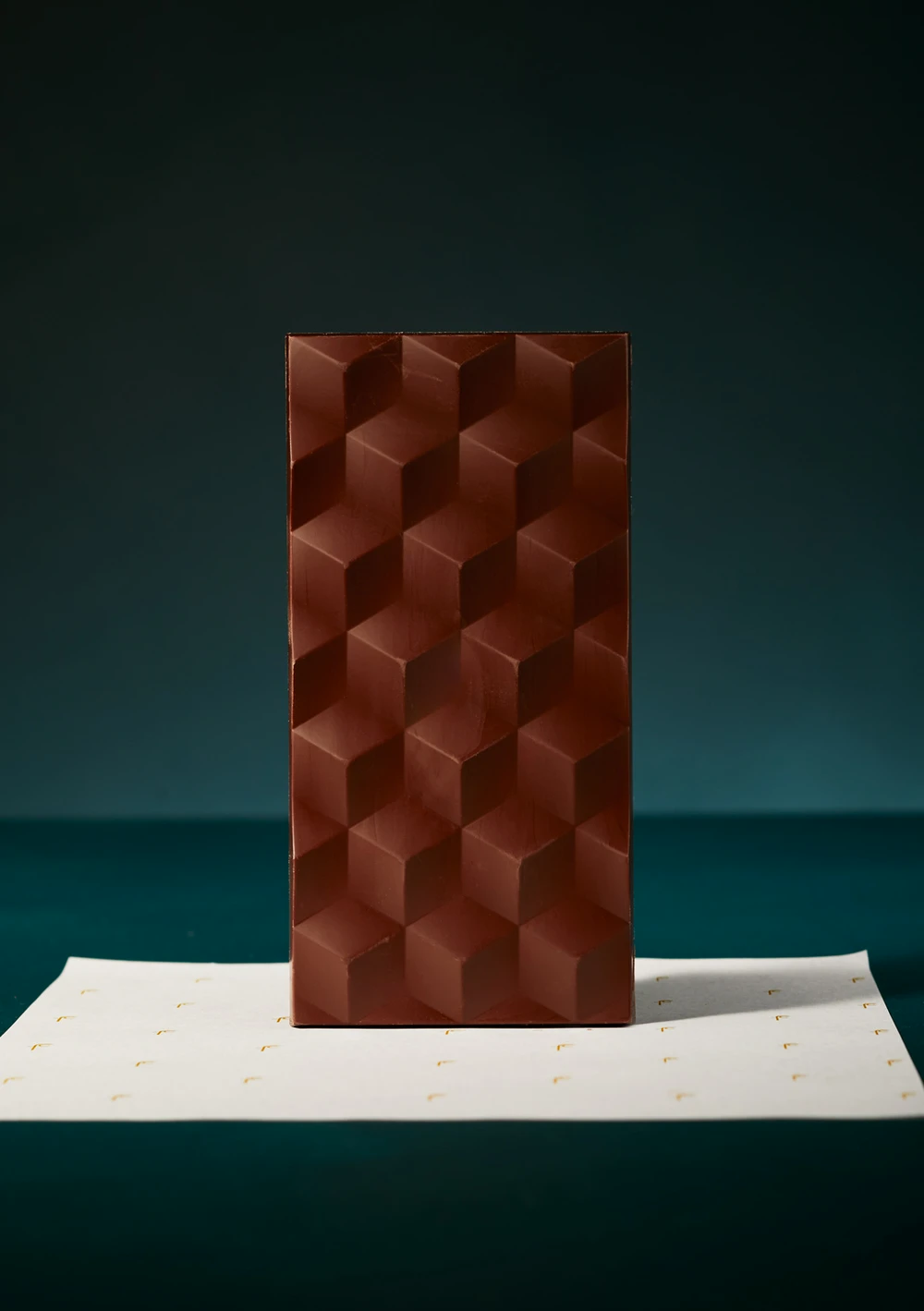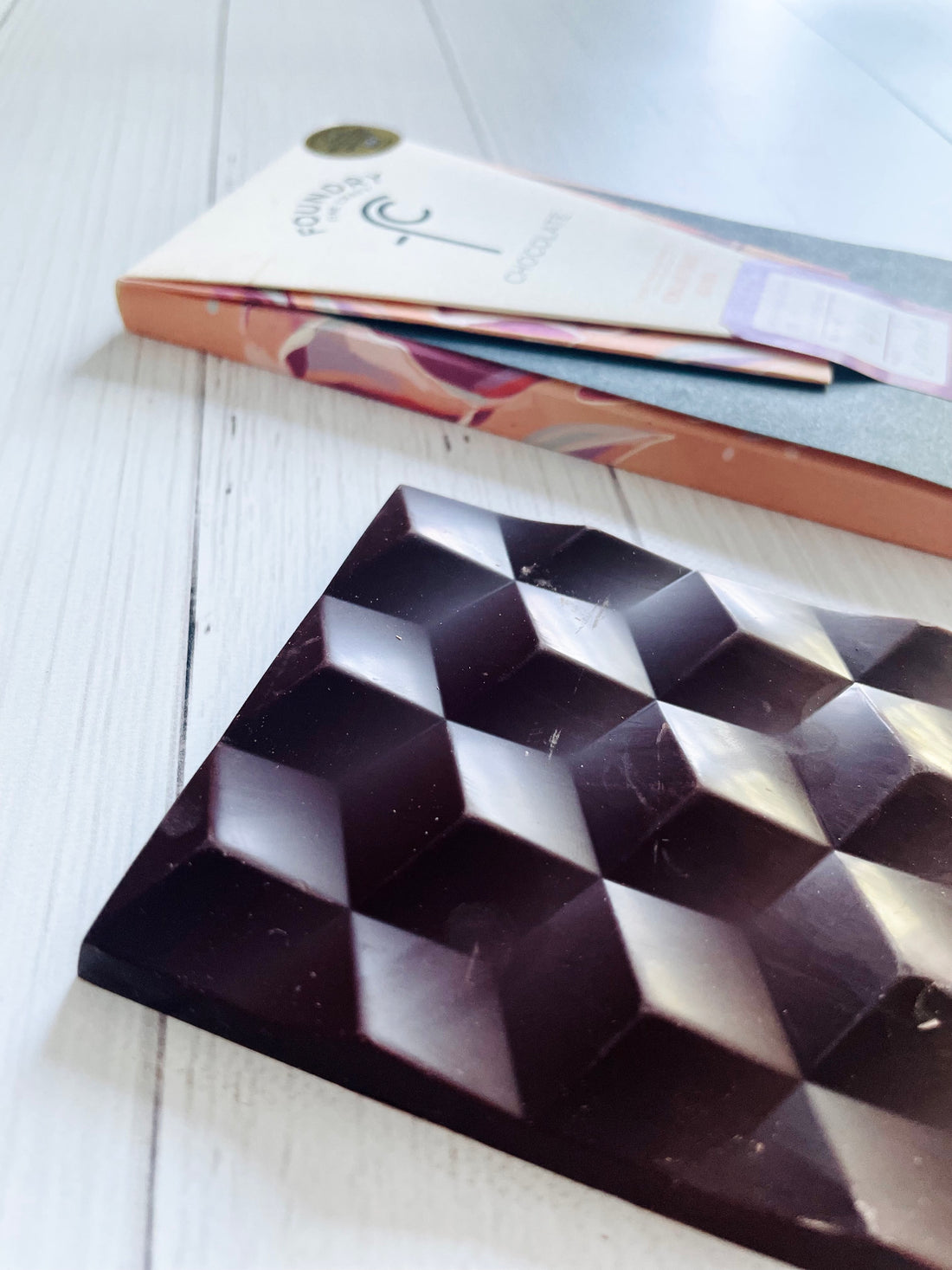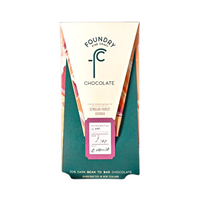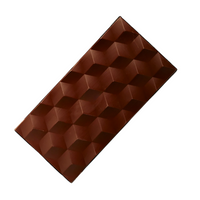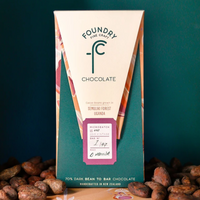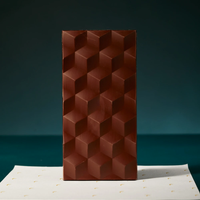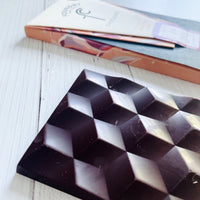 Foundry Chocolate | Dark Chocolate - Uganda
70% dark chocolate with playful notes of fluffy marshmallow, berries & cream and toasted almonds.

In the heat and humidity of the Semuliki Forest in Western Uganda, 1,002 small-hold farmers produce extraordinary organic cacao beans that make this dreamy and delightfully playful chocolate.
Expect notes of fluffy marshmallow, berries & cream and toasted almonds, which is simply the cacao's origin talking – plus organic cane sugar and our obsession for preserving the flavours of provenance.
- - - -
Awards
Silver Medal winner in the NZ Chocolate Awards 2022
About Bundibugyo, Semuliki Forest

Located in Bundibugyo, Western Uganda, Semuliki Forest cacao is grown by 1,002 organic smallholder farmers in the region, 52% of whom are women. Latitude Trade Co. (LTC), the company that prepares and exports this cacao, has organised 10 rural collection points for farmers to access, where they sell fresh cacao weekly into the network and receive cash at the point of sale. LTC's centralised fermentation facility and warehouse is located in the town of Kasese, north of Lake George.
The site is designed to take advantage of all possible available sunshine while limiting runoff from heavy rainfall. Fermentation boxes have a 500kg capacity and total duration of fermentation varies from 5.5 - 6.5 days. Beans are sun-dried on portable raised racks for 6 - 7 days and blended to create consistent lots before export.
BOUT FOUNDRY CHOCOLATE

New Zealand brand Foundry are scooping up awards for their hand crafted, micro-batch chocolate.

Chocolate maker, David, is obsessive about making fine chocolate from just two ingredients - cocoa bean and sugar, which means his chocolate starts at 70% cocoa solids.

In addition, the beans he carefully sources are of exceptional quality which mans each chocolate has a distinct flavour 'personality' - believe us when we say not all 70% chocolates taste the same!

Foundry Chocolate celebrate vintage chocolate i.e. 2019 and each bar is hand numbered and signed - so make sure you check out your bar to see what you have.

TIMING: We don't believe anyone should wait too long for chocolate and aim to have your chocolate packaged and shipped within 1-2 business days. The sooner the better as far as we're concerned :)
SHIPPING TIMES: Standard shipping typically takes between 2-7 days. Exact time will depend on the courier, and whilst we can't guarantee any exact time as it's out of our hands, experience tells us it's more likely to be 2-3 days in most cases.
THE SNAILIEST SNAIL MAIL: As a heads up, sending to a PO Box, parcel locker or similar, will often be slower as we can't use courier services and have to rely on Australia Post, who can be pretty slow at times.
EXPRESS POST: If you need your chocolate urgently, because sometimes that's a thing in life, please select Express Post at checkout, or get in touch to check how we can help.
HOT WEATHER POLICY: Please note, if the temperature is soaring we may withhold sending your chocolate for a day or two to ensure it doesn't arrive a melted mess. We'll keep you posted if that's a case, but please refer to our hot weather policy, or get in touch with any questions.
FREE SHIPPING! We're like you and we love free shipping - although full transparency, we deal in good chocolate as a passion more than profit (yep, the margins are pretty low) and as much as we'd love to offer free shipping on every order it's just not possible. But we love people who love good chocolate, so keep an eye out onsite for our free shipping rates, and gift boxes that include free shipping. Happy days!

STILL NEED INFO? Check out our shipping policy, or get in touch hello@fiammachocolate.au.