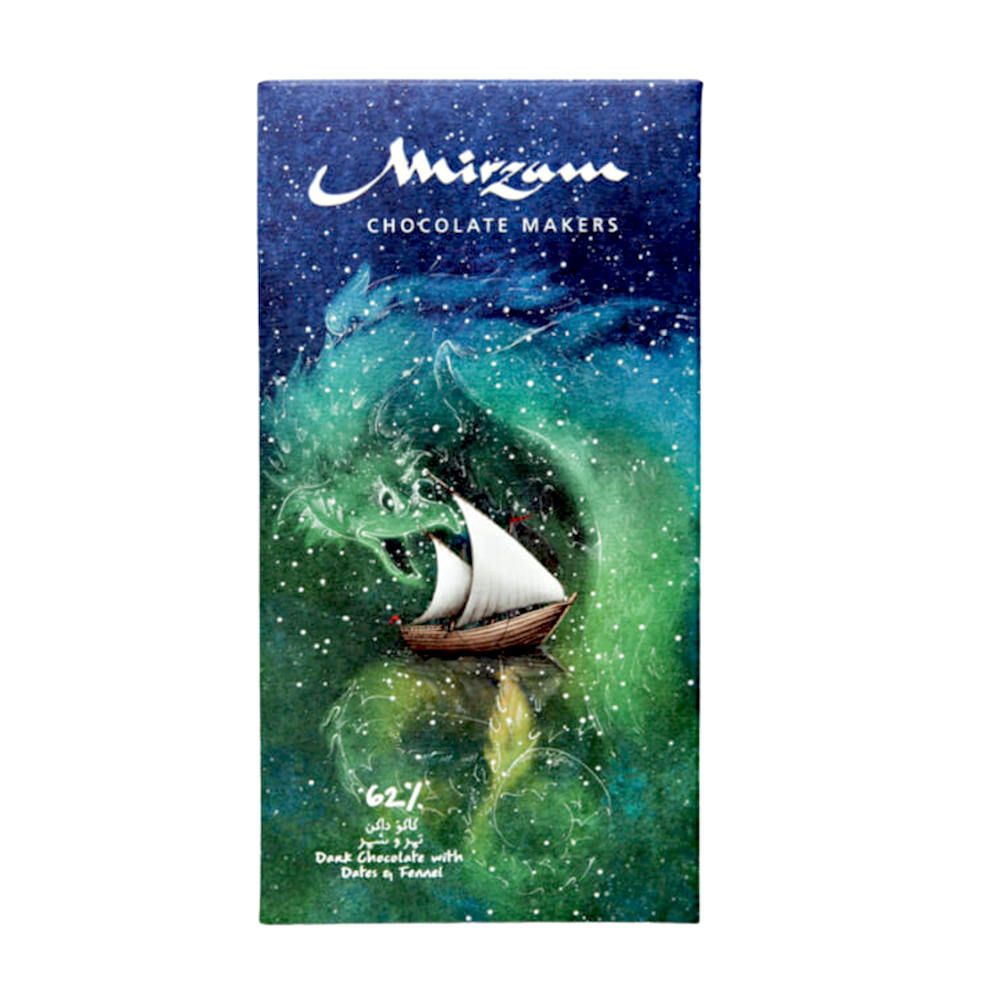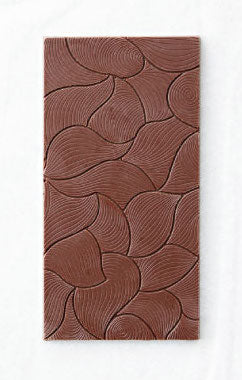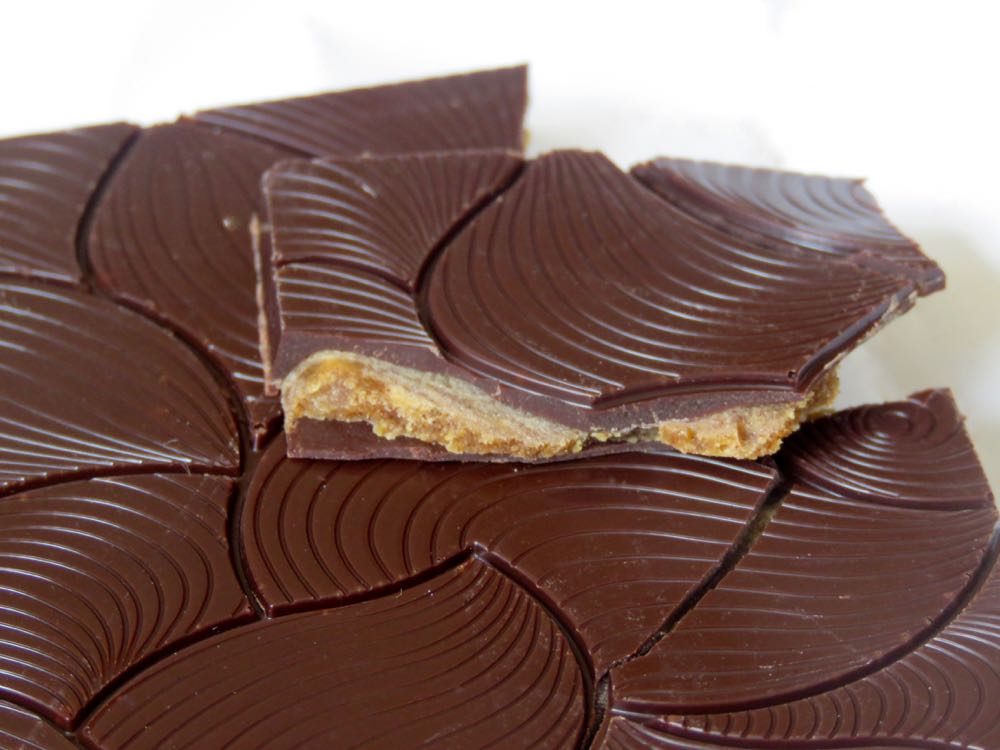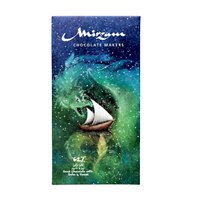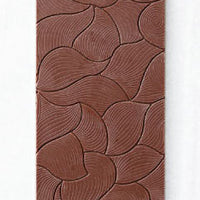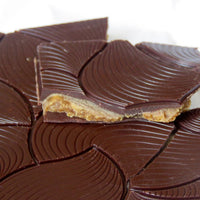 Mirzam | 62% Dark Chocolate - Dates & Fennel
A smooth, 62% dark chocolate filled with a perfectly balanced date and fennel paste.

Dates are possibly one of the quintessential flavour profiles of the Middle East, and using locally grown dates, together with freshly ground fennel, Mirzam create a paste which is used to fill the delicate chocolate bar shell.
This is truly an adventure in flavour, revealing a combination you never expected but may just fall in love with - that harkens back to the romance of the Spice Route.
Based in Dubai, Mirzam is known for its Middle Eastern influences - and inspiration from the tales of the ancient Spice Route.
 Multiple award winning chocolate.
Bar size: 70g
ABOUT MIRZAM CHOCOLATE

Mirzam is named after a star in the night sky that becomes visible at the beginning of summer, heralding the arrival of warm winds which will soon ripen the dates. Translated to English, Mirzam means 'The Herald'.

Whilst Dubai may not be the obvious source of bean to bar chocolate, we've been delighted by not only the quality of Mirzam chocolate, but the unique, Middle Eastern flavour inspiration not often seen in quality chocolate. 

Whilst the single origin cocoa is selected for it's diverse flavour profiles, Mirzam then embrace their rich heritage and is inspired by the old maritime Spice Route.- where traders sailed hundreds of years ago to gather valuable ingredients to sell on to European buyers - or in a modern age, where Mirzam source exquisite ingredients to bring you exceptionally flavoured bean to bar chocolate. 

In addition to great chocolate, you'll also notice Mirzam's unique paper packaging - they work with talented artists from the region and beyond to hand create something special. In fact, anyone can submit their portfolio to Mirzam who are constantly in the look out for inspirational creativity that can capture the essence of the Spice Route, and the modern day chocolate.
TIMING: We don't believe anyone should wait too long for chocolate and aim to have your chocolate packaged and shipped within 1-2 business days. The sooner the better as far as we're concerned :)
SHIPPING TIMES: Standard shipping typically takes between 2-7 days. Exact time will depend on the courier, and whilst we can't guarantee any exact time as it's out of our hands, experience tells us it's more likely to be 2-3 days in most cases.
THE SNAILIEST SNAIL MAIL: As a heads up, sending to a PO Box, parcel locker or similar, will often be slower as we can't use courier services and have to rely on Australia Post, who can be pretty slow at times.
EXPRESS POST: If you need your chocolate urgently, because sometimes that's a thing in life, please select Express Post at checkout, or get in touch to check how we can help.
HOT WEATHER POLICY: Please note, if the temperature is soaring we may withhold sending your chocolate for a day or two to ensure it doesn't arrive a melted mess. We'll keep you posted if that's a case, but please refer to our hot weather policy, or get in touch with any questions.
FREE SHIPPING! We're like you and we love free shipping - although full transparency, we deal in good chocolate as a passion more than profit (yep, the margins are pretty low) and as much as we'd love to offer free shipping on every order it's just not possible. But we love people who love good chocolate, so keep an eye out onsite for our free shipping rates, and gift boxes that include free shipping. Happy days!

STILL NEED INFO? Check out our shipping policy, or get in touch hello@fiammachocolate.au.