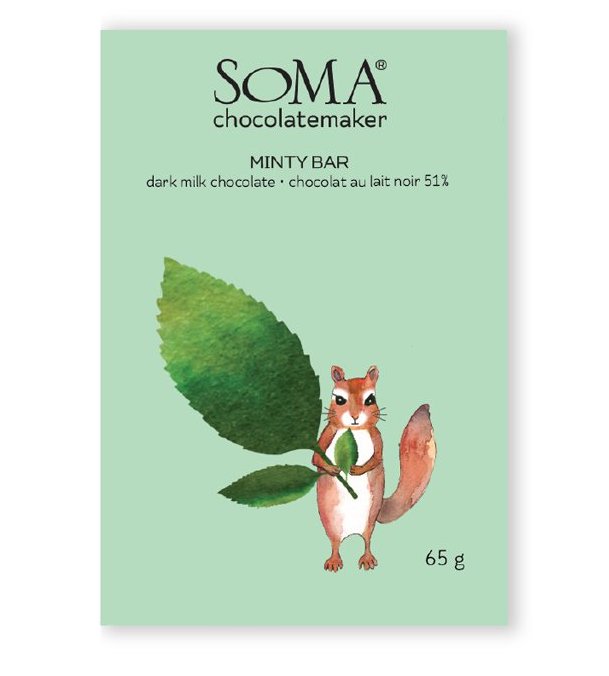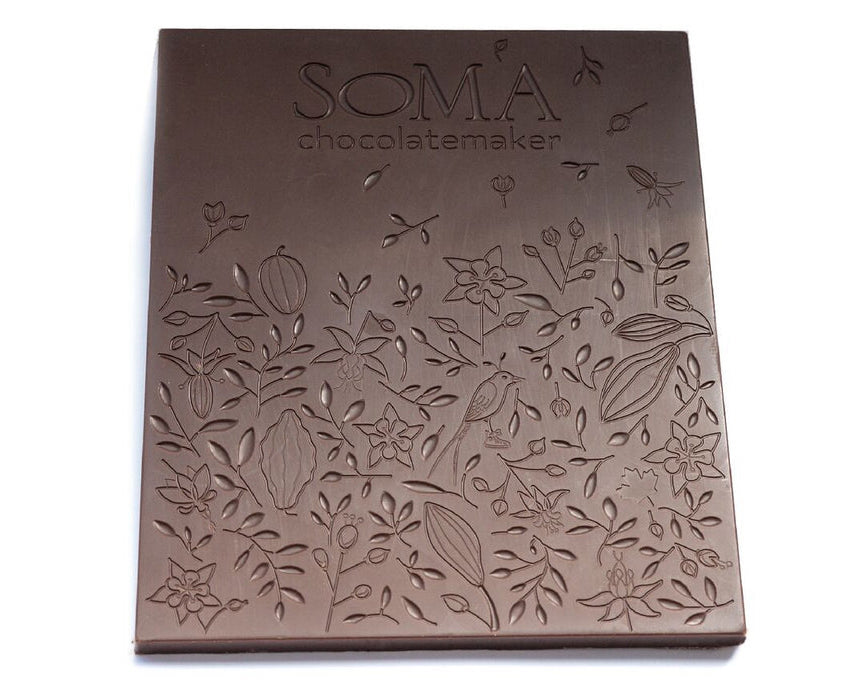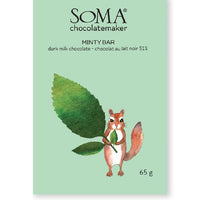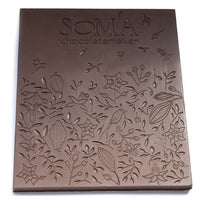 Soma Chocolate | 51% Milk Chocolate - Minty Bar
A 51% high cocoa content milk chocolate with the perfect pairing of mint that plays so very well with this buttery milk chocolate.
Mint is the cool cat of the herb family. In ancient Greece mint was a symbol of hospitality, the leaves were rubbed on tables to welcome guests into their homes.

This bar is a dark-milk chocolate, a beautiful blend of cacao from Soma's favourite farms and growing regions. The chocolate is buttery and luscious, a perfect base for spearmint to dance around on. Let a piece melt in your mouth and enjoy the feeling of waking up from a deep delicious nap filled with fresh new ideas.
Bar Size: 65g
Images: courtesy Soma Chocolate
Origin: blend, dream machine: PISA, Haiti, Ucayali River, Peru, Rizek Farm, Dominican Republic, Akesson's Farm,  Madagascar, Hacienda Victoria, Ecuador 
TIMING: We don't believe anyone should wait too long for chocolate and aim to have your chocolate packaged and shipped within 1-2 business days. The sooner the better as far as we're concerned :)
SHIPPING TIMES: Standard shipping typically takes between 2-7 days. Exact time will depend on the courier, and whilst we can't guarantee any exact time as it's out of our hands, experience tells us it's more likely to be 2-3 days in most cases.
THE SNAILIEST SNAIL MAIL: As a heads up, sending to a PO Box, parcel locker or similar, will often be slower as we can't use courier services and have to rely on Australia Post, who can be pretty slow at times.
EXPRESS POST: If you need your chocolate urgently, because sometimes that's a thing in life, please select Express Post at checkout, or get in touch to check how we can help.
HOT WEATHER POLICY: Please note, if the temperature is soaring we may withhold sending your chocolate for a day or two to ensure it doesn't arrive a melted mess. We'll keep you posted if that's a case, but please refer to our hot weather policy, or get in touch with any questions.
FREE SHIPPING! We're like you and we love free shipping - although full transparency, we deal in good chocolate as a passion more than profit (yep, the margins are pretty low) and as much as we'd love to offer free shipping on every order it's just not possible. But we love people who love good chocolate, so keep an eye out onsite for our free shipping rates, and gift boxes that include free shipping. Happy days!

STILL NEED INFO? Check out our shipping policy, or get in touch hello@fiammachocolate.au.